Home
Biography
40's Tribute
Golden Oldies
Photos
Music
Events
Contact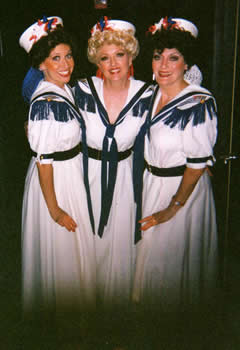 Take A Musical Trip Thru Time
With
THE SWING SISTERS
The 40ís Tribute Show
THE SWING SISTERS NEW SHOW is called "REMINISCING THRU THE FABULOUS 40ís" showcasing songs made famous by the beloved, funny and talented Andrews Sisters, and also includes songs by the wonderful McGuire Sisters and other Great Artists with costume changes, video and fabulous photos during their show.
THE SWING SISTERS take you back to the feelings and euphoria of being at a USO Show in the 1940ís. Their beautiful harmonies and choreography, take their audiences along with them through humorous and fun-filled antics. Come and join them as they transport you back to see and hear this incredibly real Musical Trip Thru Time.
THE SWING SISTERS perform self-contained using their very own studio recorded full orchestra tracks or perform with a Big Band using THE SWING SISTERS charts.