Home
Biography
40's Tribute
Golden Oldies
Photos
Music
Events
Contact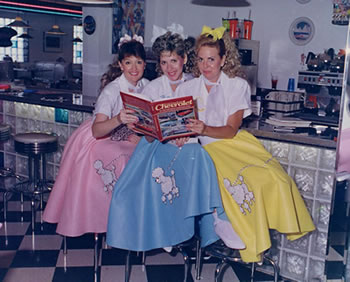 THE SWING SISTERS
"The Golden Oldies"
Remember Then?
'Remember poodle skirts, saddle shoes and Bob-B Socks? How about duck-tailed haircuts, pompadours and Lucky Strikes rolled up your T-Shirt sleeve with a Zippo lighter? Do you recall huddling around a flickering, black and white boxed screen in your living room watching "I Love Lucy," "American Bandstand," "The Colgate Comedy Hour," and "Gunsmoke?" When was the last time you plunked down your fifty cents to see "From Here To Eternity," "White Christmas," or "Gentlemen Prefer Blondes" at the movies?" Didja' ever "cut a rug" doing the Lindy, The Stroll or Cha Cha Cha?
It was a simpler time then. Well guess what?...It's Back!!
The Swing Sisters, long known for performing their tributes to The Andrews Sisters and McGuire Sisters, have a new show and it's called "The Golden Oldies!" Tailored to meet your specific time requirements, The Swing Sisters can now take you "slippin and 'a slidin', peepin' and 'a hidin'" through (up to) a one hour show jam-packed with the music, humor, costumes and nostalgia of the "fabulous fifties" and early sixties! Cool man, cool!
First, the girls take you down memory lane to the more sedate songs from earlier in the era such as Teresa Brewer's "Put Another Nickel in The Nickelodeon," The Cordettes' "Mr. Sandman," The Fontaine Sisters' "Hearts of Stone," and a host of others, then cruisin' into the later years with Connie Francis' "Where The Boys Are."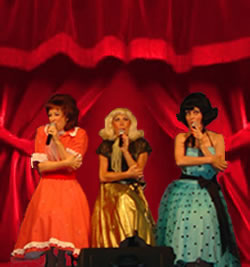 Soon it's time to "ditty-bop" through a hilarious medley of early Rock 'n Roll, girl-group songs. Why "hilarious" you ask? Well, let's just say the girls wind up making one of your guests into the "star of the show!" It's a "boss" medley of songs like "Leader Of The Pack," "Dedicated To The One I Love," "Chapel Of Love," "Heat Wave" and several more instantly recognizable hits delivered at a rapid fire pace and designed to keep your audience in "stitches."
Doing the "stroll" over to Broadway, The Great White Way had many successful shows in the '50's & early '60's." The Swing Sisters reminisce with the music of the biggest, like "Gypsy," "West Side Story," "Carousel," "Peter Pan." and many, many more.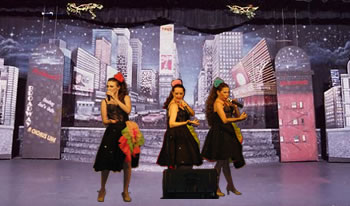 "School Days" are a part of everyone's memory. The Swing Sisters take you back to those carefree days with a rollicking look at three girls trading "girl-talk" in their school locker room. Through song, the girls again incorporate audience participation in a fun-filled medley that has "Miss Outgoing Cheerleader" singing (Nothing you can say can take me away from) "My Guy" with a little "Locomotion" on the side while "Miss Shy" says if you knew her "Sweet Talkin' Guy" you'd say "To Know Him Is To Love Him." And last, but not least, "Miss Perfect" wants some unsuspecting audience member to "Come Get These Memories!"
And these are but a few of the songs in this segment all tied together to tell a story guaranteed to bring laughter and nostalgia to your audience. Finally, the girls decide what all teenagers know...."school days" are really all about dancing! Within seconds, The Swing Sisters will have your entire room up "Dancin' In The Streets" for their exciting finale.
The Swing Sisters' Golden Oldies Show is fun, action packed, nostalgic and guaranteed to please any age group. We're looking forward to seeing you soon.